Who am I?
Personal Details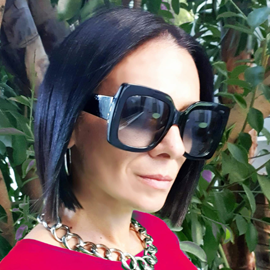 Artist Statement
My art is a form of expression and an extension of my personality. I started dabbling in art from a very young age. I have always had a piece of paper and a pencil in my hand. My creative mind never stops; I'm continuously informed about the new trends in contemporary art and everything around me is an inspiration to my work. My designs are inspired by my imagination and the passion I derive from even from the smallest and insignificant things in life. I am an extremely visceral person and in many ways, I put myself wholeheartedly into each design. I never focus on specific art styles as I do not want to frame myself within a particular kind of technique and be more loyal to my own feelings. Different mediums always allow me to express different ideas. During the research, new areas of interest arise and lead to my next work. For the past 20 years, my work has almost always rooted in a personal mash-up of feelings and moments. Although there may not always be material similarities, they are linked by the richness of imagination and perfectionistic details. While I use a variety of materials and processes in each design my philosophy is consistent. Each work often consists of multiple sketches, in a range of different media and meanings and 'Communication' with my audience is mostly what I have in mind when I paint. I never have hidden messages and I love it when viewers express different emotional reactions and perceptions for each work.
Follow me
My Education
Education & Awards
1994 September

-

1997 June
University of the Arts
London
Computer Design
BA (Hons) Graphic and Media Design
Studied at the University of the Arts London, in the area «Graphic and Media Design».
London, UK
1992 September

-

1994 June
Frederick University
Graphic Arts
H.N.D in Graphic Art and Advertising Design.
Received a full scholarship at Frederick University for the academic year 1993-1994 as first among all academic-year students.
1989 September

-

1994 June
HONORS & AWARDS
Arts
My early Recognition
1994 - Frederick University
Commendation Certificate for the highest average mark in graduating class
1993 - Frederick University
Received a full scholarship at Frederick University for the academic year 1993-1994 as first among all academic-year students.
1992 - B' Kykkos Lyceum
Attending Technical Drawing Classes
Receive a prize for the Highest Performance in Technical Drawing and a prize for excellent performance in History of Art and Technical Drawing.
1990 - The Cyprus National Committee on the occasion of the European day of schools
Commendation for participation in the Art Competition held in 1990.
1989 - Engomi Gymnasium
Honorary Diploma for contribution to the subject of Art and for having excelled in this subject.
Marcus Platrides

Etherial Director

I imperative once again to express my gratitude to xrista for the quick response and the high level of professionalism and quality of work , which have been the springboard for one excellent cooperation and an excellent aesthetic results and brought an air of freshness and renewal the product range of the company Etherial. Her passion about art and her proven talent, have magnetized the first my interest.

Sarah Kyprianou

Fashion Columnist

Xrista Stavrou the voice of today's contemporary culture using digital design in the most impressive forms of art on clothes and much more. Though there is one thing for sure; digital art itself is a technical approach though it takes skills to get ahead in its process as well as talently put together ideas such as these and others previously seen during the latest showcase back in November 2013 from award winning artist in digital design art; Xrista Stavrou. A mastermind that marries style and luxury with a lavish technical innovation.

Male Fashion Trends

Blog Site

One of the most transgressive designers in the fashion scene in Cyprus, Xrista Stavrou, award winning artist in digital design art, launching a secondary line to its namesake brand, Ethereal refers to the new type of prints posing in shirts with prints military inspired tattoos and details urban art.

The three project designs were chosen among many others according to my taste and aesthetics. All designs of Xrista Stavrou were amazing anyway as well as the rest of her T-Shirt Collection.
What I'm best at
Skills & Knowledge
Software
Autodesk SketchBook Pro
100%
Microsoft Expression Web
95%
Knowledge
Illustration Design
Vector Illustration
T-shirt Designs
Digital Design
Graphic Design
Drawing and Painting
Brand Development
Visual Styling
Photo manipulation skills
Digital Painting
Photo Composition
Good sense of Typography
Portrait Retouching
Fine Art
Visual Arts
Web Design